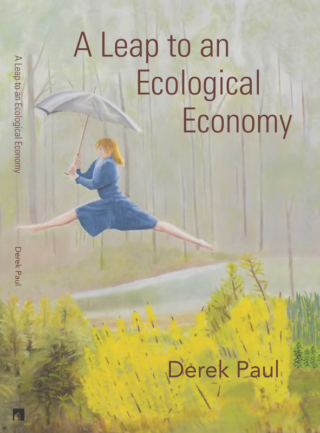 A Leap to an Ecological Economy
by Derek Paul
Issued by Archway Publishing
Paperback: 978-1-4808-5171-9
E-Book: 978-1-4808-5172-6

Obtainable through Archway Publishing (www.archwaypublishing.com) or can be ordered through the major bookstores in Canada and the USA or through amazon.com.
The preliminary edition in 12 pt print (ISBN: 978-1-7751498-0-4) is still available from the author (derekleverpaul@gmail.com), and at a few bookstores in Montreal:
James McGill Bookstore, 680 rue Sherbrooke Ouest;
Kidlink Store, 5206 de Monkland; and
Le Puits du Livre, 2587 rue Masson.
An early comment:
"I have read your book and … it remains the book I would have liked to have written. I am happy that you put it together … You have described a way forward … your book should be on the curriculum of all high school students in the English speaking world. This book is short enough and readable enough to make it doable.
"Thank you for your important contribution to the literature in the field of ecological economics."
— Glenn Griffin MD, MSc, Med.
Selected excerpts from the book can be found here.